CORRECTION IN RED BELOW
Not many awesome deals at Walgreens for us in the Portland area.
But this week is FREE LAUNDRY DETERGENT!!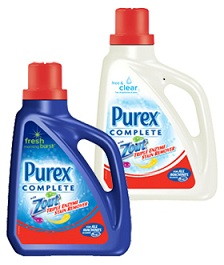 Woot! Here is an Extreme Coupon deal on laundry detergent! Sign up HERE to get a free sample of Purex laundry detergent or print a $2.00/1 Purex Complete with Zout coupon. Use the coupon at Walgreens and get it for free!
Purex Complete with Zout Laundry Detergent $1.99
$2.00/1 – Purex Complete with Zout – (purex.com)
Final Price: FREE
Thanks, KCL
I went and Walgreens only carries regular Purex (not ZOUT) like stated in coupon.
I understand that there was a $2 MQ in a Sunday insert recently. However, I could not tell you which one or when.
Sorry