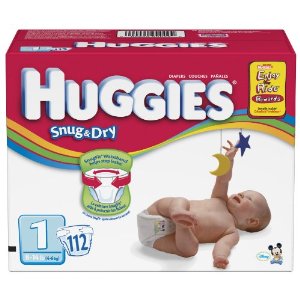 Need some diapers, have a baby shower coming up?
You can only get these Huggies in a size one for this price.
Huggies Snug and Dry, 50ct. size 1 $8.00


Use

$2.50/1 – Huggies Diapers, 48ct or Larger, Target Coupon – (target.com)

And use

$2.00/1 – Huggies Diapers – (coupons.com)Final Price: $3.50
Go to Huggies Facebook Page and 'like' them and then head over HERE to print a $1.50/1 Coupon. Then Share this with 3 Friends to be able to print a $3.00/1 Huggies Diapers coupon.
Use this $3.00 off coupon at Target to get Huggies for Only $2.50!
Huggies Snug and Dry, 50ct. size 1 $8.00
Use $2.50/1 – Huggies Diapers, 48ct or Larger, Target Coupon – (target.com)
And use $3.00/1 – Huggies Diapers – (facebook.com)
Final Price: $2.50
Thanks, Southern Cali Savers